HOME
TRAVEL
MUSIC
FOOD
ABOUT
FOOD REVIEW - CRISPY BUFFALO CAULIFLOWER WINGS FROM "IT DOESN'T TASTE LIKE CHICKEN"
#food
#review
#vegan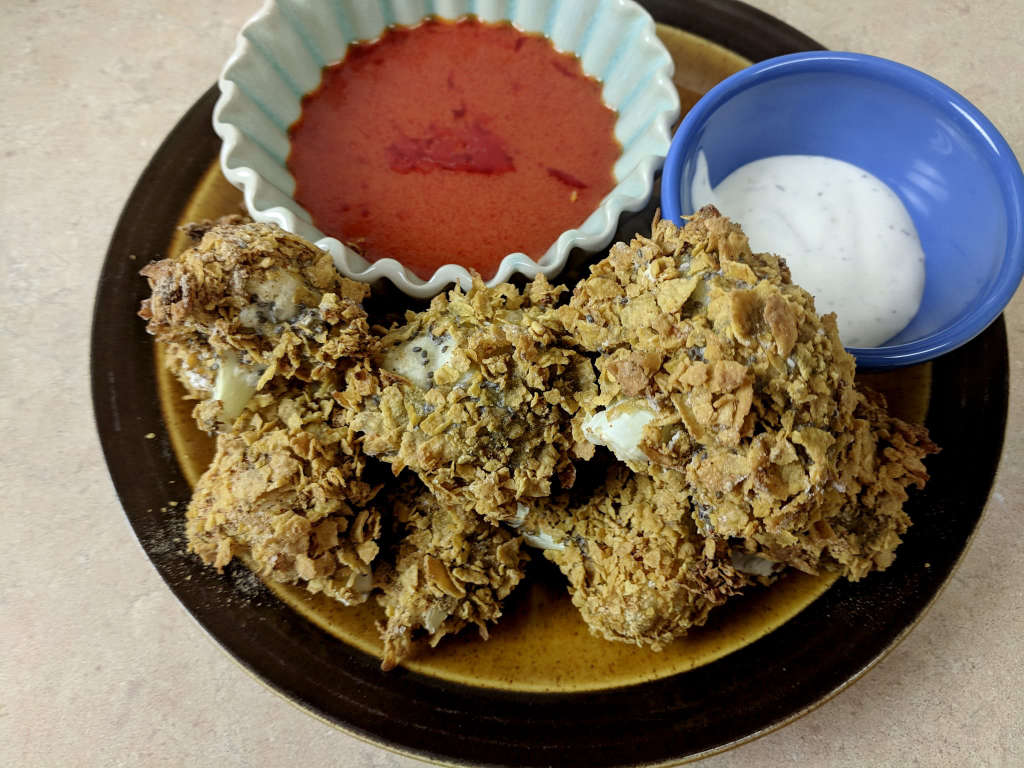 Hello my lovelies - and happy Sunday!
In my quest for yummy vegan foods, I stumbled across an awesome vegan food blogger Sam Turnbull and her blog"It Doesn't Taste Like Chicken"- Sam is poppy, friendly and excited about making yummy vegan foods and she has been a huge source of some of my newest favourite vegan recipes.
Most recently I decided to give herCrispy Buffalo Cauliflowerrecipe a try! The recipe is easy to follow and is an easy on the "easy to difficult" scale and literally takes no time at all in terms of preparation --seriously, get in your kitchen now and make these!
I'm going to take you step by step in how "I" prepped and made these, that way you can see how a non-food blogger such as myself follows recipes!
For me - I had to cut the recipe down to 2 servings, 1 - because it's just me, and 2 -because my 3 cup food processor cannot handle more than that.
First I prepped my cornflake crumbles - using the food processor to mix them up with the spices. So far so good! Food processor still intact and passed this first test!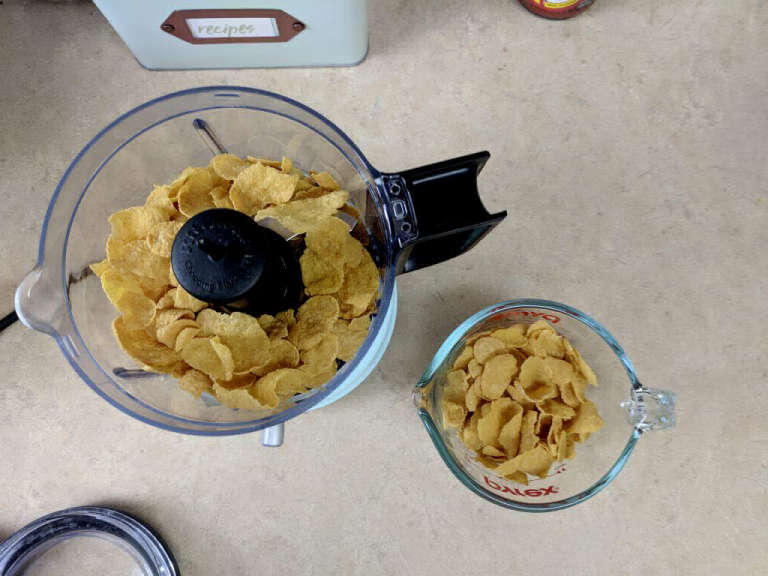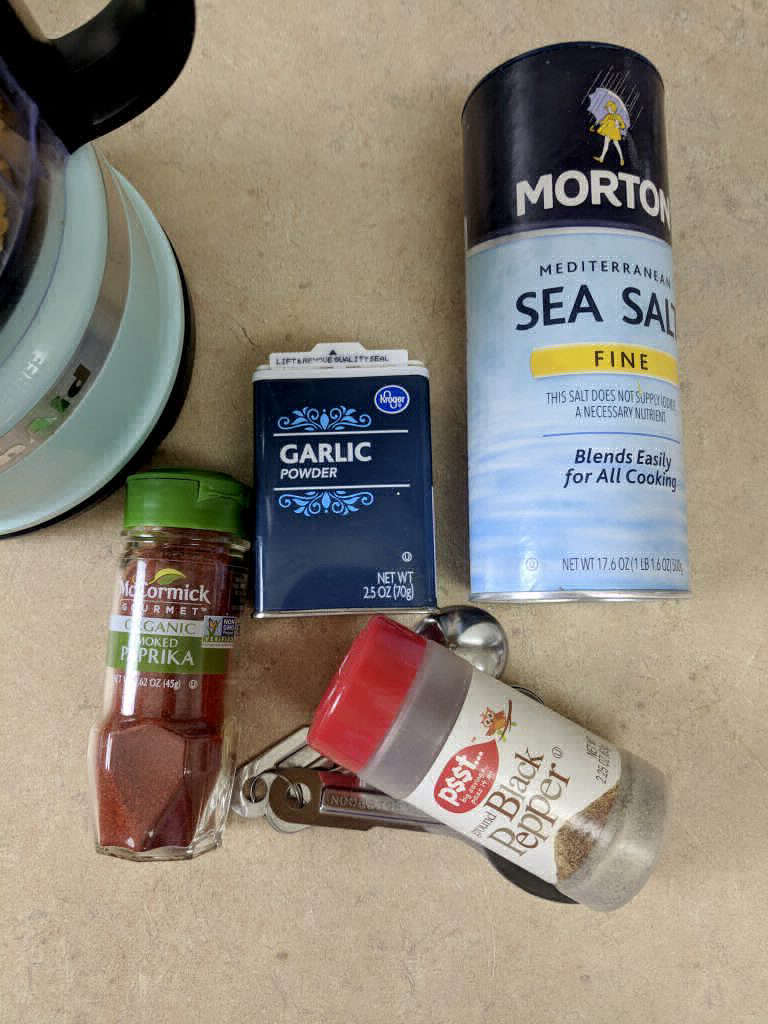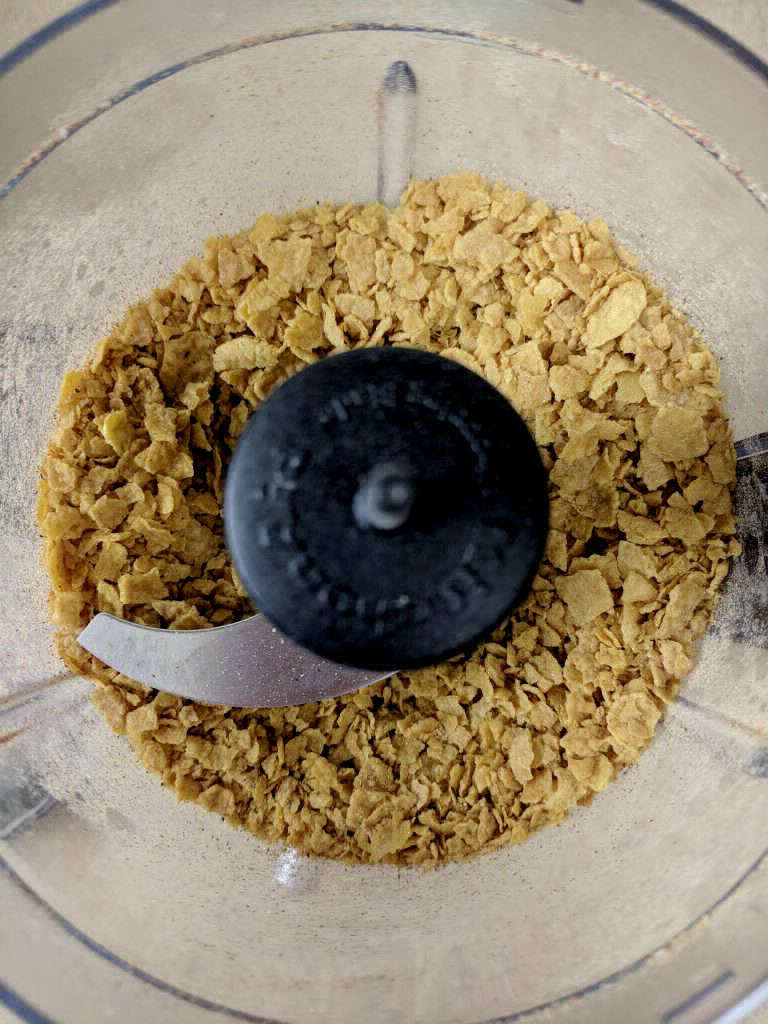 Second, prepped the cauliflower - I bought a smaller head of cauliflower, and used half of it - cutting down pieces in florets. You want to ensure you rinse them after chopping because you need them to be wet for dipping, as Sam mentions in the youtube video that accompanies the recipe.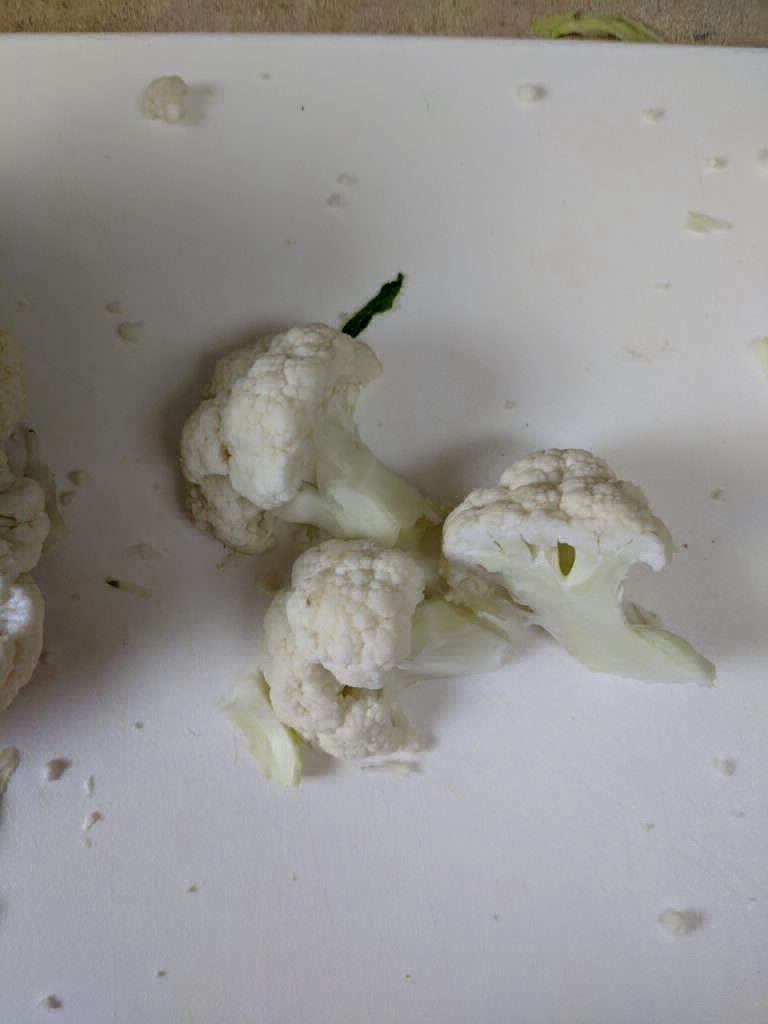 After prepping your cauliflower and rinsing them, set up your dipping stations! One bowl of flour, chia seed/water mixture and your cornflake mixture. At this point I was still doing great - recipe still going smoothly, and then it came to the chia seed mixture -- now I have never done anything with chia seeds. When put in water, chia seeds fluff up and become a slimy texture. Personally, I could pass but they also help add a egg like texture when you let it sit a moment prior to dipping. I suggest closely following the chia seed to water mixture on Sam's recipe, because I did, then added more water thinking it wasn't enough - again, chalking that up to no experience. Because I ended up putting too much water/chia seeds - I then had to drain out some of the water, but after I did that the chia seed water mixture ended up just right!
You want to let it sit so it does get gooey - something like this: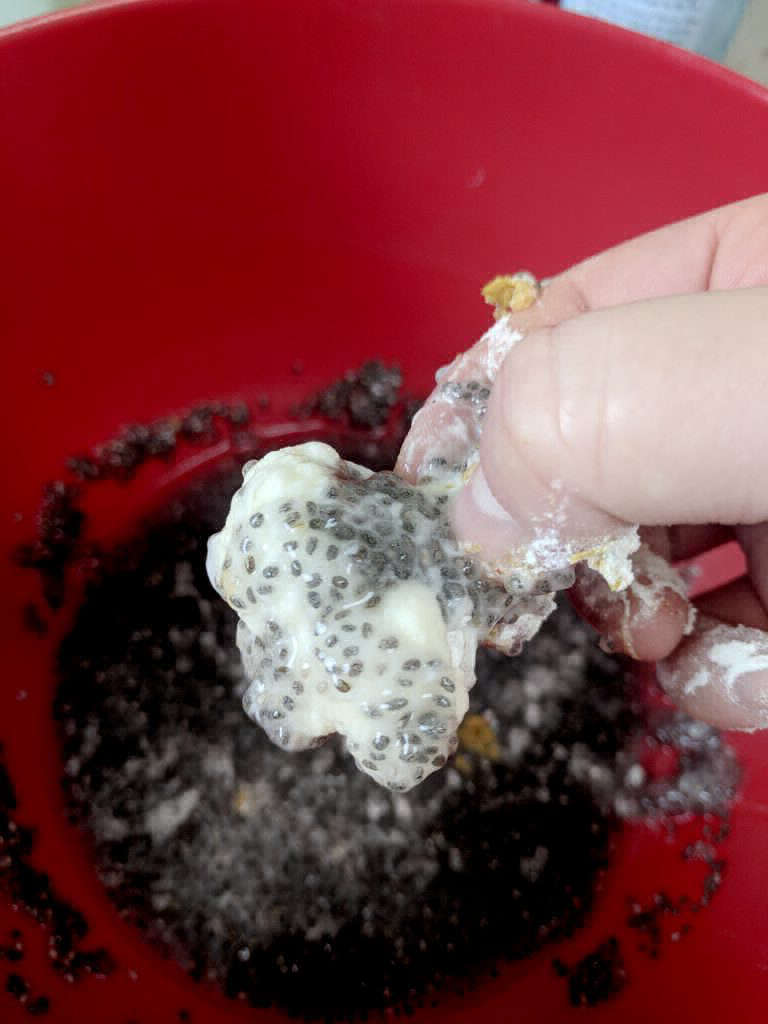 As you dip in each bowl - just make sure to shake off any excess - then set them on a cookie sheet to bake! I did notice that prior to figuring out the correct consistency for the chia mixture, they didn't "stick" like they were supposed to on the cauliflower.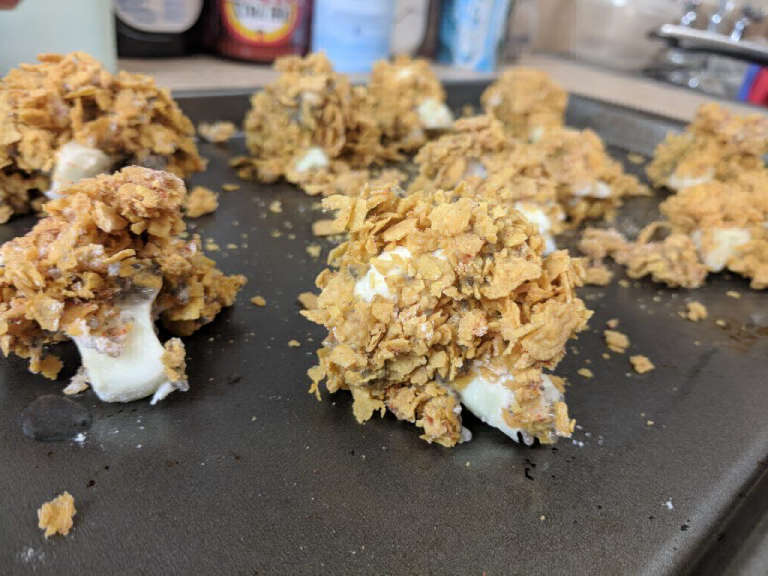 While they were baking - I prepped my hot sauce. Unfortunately, I got the extra hot Frank's Red Hot sauce -- and ooooof!! My mouth was on literal fire - even with the vegan bleu cheese dressing to dip into, it was way too hot. So be sure to pay attention when you are searching for hot sauces. Once they were done - they should look golden and have a really crispy texture. I wasn't sure if I should leave them in a little longer but decided to stay the course and pull them out of the oven after 25 minutes exactly.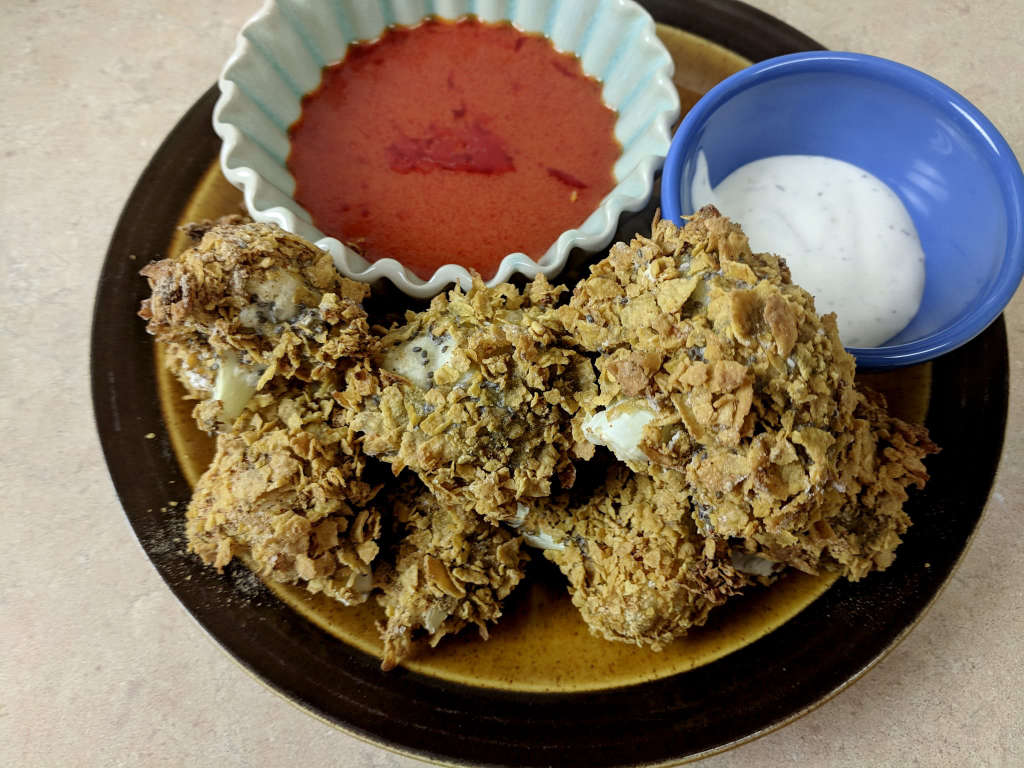 Look at them! They look so delicious! Tasting them - I really enjoyed the crunch of the cornflake mixture, but the inside cauliflower has a softer texture. They were good! I want to try this recipe again, with the correct flame level of hot sauce. As well as possibly making my florets a bit smaller and more bite sized!
Overall I had a really fun time making these! I can't wait to perfect them and again, full credit going to Sam Turnbull! from "It Doesn't Taste Like Chicken" and isn't something that I created, just doing a simple review of a fun and tasty recipe!
What are your favourite vegan recipes ?
xoxo,\ kate